Saxophone Trio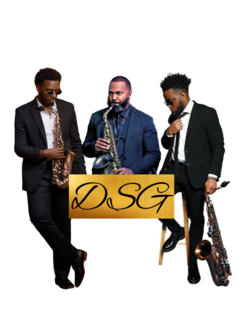 Show Info
Minimum Purchase Note
Please note, in addition to ticket purchases there is a $10.00 minimum purchase of food or drinks required per person. Ticket price does not include gratuity.
Date
Friday, November 24, 2023
2 Shows
7:30pm - SOLD OUT
10:00pm - SOLD OUT
Club Hours
6:00pm - 12:00am
kitchen open 6:00pm - 11:00pm
Cover Charge
7:30pm - $35.00
10:00pm - $35.00
Bio
When you get Darius Starks, Steven Galloway, and David Glymph combined, you're getting the Saxophone Trio DSG. With their collective sound, and spectacular explosive stage appearance, They will get the crowd going soon as they hit the stage with collective R&B hits that range from the 80s and the 90s which may include Earth, Wind, and Fire ,Boyz 2 men and many more. They are already shown online how much they enjoy coming together and making a well blended smooth sound. From going viral on Facebook, Instagram and TikTok, DSG has a combine views of 2.5 million from just three videos. DSG will continue to formulated a style that is well needed in the south east region, and will continue to Express their musical talents national and international.
Social Media