featuring Terence Young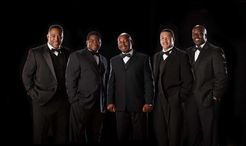 Show Info
Minimum Purchase Note
Please note, in addition to ticket purchases there is a $10.00 minimum purchase of food or drinks required per person. Ticket price does not include gratuity.
Date
Saturday, September 14, 2019
2 Shows
8:00pm - SOLD OUT
10:15pm - Tickets Available
Club Hours
5:00pm - until
kitchen open 6:00pm - 11:00pm
Cover Charge
$20.00

Bio
The Finesse Band is a six member dance/party band from Columbia, SC that was founded by guitarist and CEO Terence J. Young. The band is comprised of the top musicians and vocalists in South Carolina and Georgia. They specialize is performing at Weddings, Corporate Events, Festivals, Concerts, and anywhere that people want to have a great time groovin' with great music!
The Finesse band's audience interaction at events is second to none with world class male and female front singers as well as a strong compliment of background vocalists. In addition to high energy dance music, they can also provide a tasteful and classy Jazz set when requested. In addition, Finesse includes a DJ on all jobs to provide recorded music before the band and on any breaks to provide a seamless evening of music.
The band consists of Terence Young on guitar and vocals, Sam Jenkins on bass guitar, Byron Counts on multi-keyboards and vocals, Mike Benson on drums, percussion and vocals, Eric Mayweather and Latoya Patrice on lead and front vocals.
Website
Social Media
Facebook