Raymond Pearson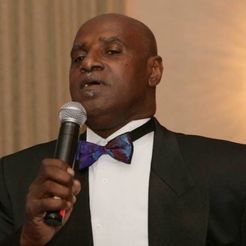 Upcoming Shows
Bio
Raymond Eugene Pearson
Born February 4th 1957 Asbury NJ.
is 59 years old

Currently lives in Greenvill sc
and is a local Musician

A native of Franklin Township NJ. Started playing the guitar in the 7th grade for the first time playing on a stage was put in the New Brunswick NJ news papers. Becoming a Musician playing the Guitar in a Traveling R&B NJ high school. Called the Essence Of Power from 1972-1975.

Raymond Pearson Won Catch a Rising Star A Bill Cosby Talent search event in 1977. Barber-Scotia College in Concord NC. Raymond had to dropped out of college to work. He became a Professional Musician and traveled all over the East Coast. Playing over 300 Colleges and venues and Clubs. Disney World, Long Beach California, Dallas Texas, Washington Dc, Kentucky, Mississippi while working in the textile mills of Cannon Mills Kannapolis NC and Burlington Industries Mooresville NC while going full time in college

Raymond is a special Man of a small percentage of African American Male Athletes who dropped out of college. later after graduating. He found out that 97% of them never went back to finish college. Raymond went back to his Almamater for another 4 years and received His B.s College Degree in Recreation Administration, Physical Education, Health and Art. from Barber-Scotia College 1989-1992.

Raymond is very very talented and loves the lord. His children and grand children, Friends and Relatives. Raymond has been playing the Bass scence 1980 and lead Guitar for at least 48 years living in Concord, Charlotte and Greenville, sc. Recording albums and his own original songs. He plays all kinds of music Jazz, R&B, Gospel, Soul, Blues, Top 40, Soul, Rock, Hip Hop, Funk Neo Soul, and Reggae and other types of music.

Raymond has played for great Churches Little Rock AME Zion Church 7th St. Charlotte NC and a host of others.
Raymond in his music career has met Stars like Jay Leno Of the Jay Leno Tonight show and have played with the Famous late Actor and Dancer Gregory Hines.
He has met Stevie Wonder,Jessie Jackson, Dick Gregory, Shirley Chisholm, Mothers Finest, George Clinton, James Worthy Basketball Player for the LA Lakers, Has appeared and met Bobby Jones Of the Bobby Jones Gospel Show, Reggie White.Steve Smith, Senator Andrew Jackson, Archie Bell, George Clinton Parliment Funkadelic, Sybil Wilkes, Tom Joyner, Maurice of the zodiacs, Jack Roper, Senator Mel Watts and most of the Professional Musicians in the Charlotte Musicians circle.
Raymond from time to time, Play's in churches for Family and Friends at different local in and out of state functions.
Raymond loves to take Pictures and film his life and family
He has a youtube Channel Rayz12able with at least 60 + Videos on it of him playing in bands and by himself in solo projects
Raymond owns His own business called Seal-A-Deck Home Improvements That pressure Wash Paint and Stain Houses, Wood, Concrete and Carpet.
The Project is a 15 month project with over 67+ songs that will keep you Entertained and happy to dance and relax as you eat socialize and dance
Social Media