Greg Whittaker and Modern Daze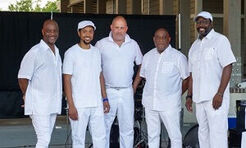 Upcoming Shows
-Sat-
8
APR '23
7:30 PM
&
10:00 PM
Bio
Saxophonist Greg Whittaker is a native of Jacksonville, Florida. Upon graduating From Andrew Jackson High School in 1982, he chose to further his musical opportunities in the United States Marine Corps Music Program.
After completing the basic, intermediate, and advance courses at the Armed Forces School of Music, he served in various musical capacities in Marine bands throughout Far East Asia and the Continental United States. Gregory retired from the Corps after completing 20 years of continuous service on June 26th 2002.
Greg is most notable known for his work with Hilton Head Island's very own "Deas Guyz Band". He was also a featured artist with a band organized especially for the New Line Cinema motion picture, The Notebook. He was also featured on Sweet Surprises, a collection of spiritual love songs by South Carolina native and star of Nickelodeon's Gullah, Gullah Island, Ron Daise.
He was also a featured musician with the South Carolina Jazz All Stars at the 3 Rivers Music Festival in which he performed with the legendary South Carolina State University Jazz Hall of Fame inductee Skip Pearson as well as Fred Wesley known for his work as the musical director for James Brown, member of Parliament Funkadelic, SOS band, Cameo and Ray Charles, just to name a few.
Website
Social Media
Facebook