Emile Pandolfi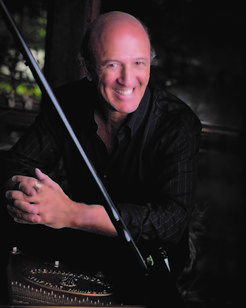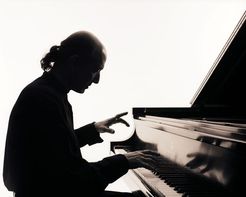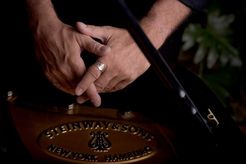 Upcoming Shows
Bio
Emile Pandolfi is a master of piano technique who happens to love playing the piano, enjoying great music, hanging out with long time friends and making new ones. He believes in having fun in both his personal life and his professional one. And that is the foundation upon which his career is built.
He began his classical training at the age of five, in his hometown of Brooklyn, but soon continued his studies at the Third Street Music School Settlement in Manhattan. http://www.thirdstreetmusicschool.org/about.htm While his sisters were violin students, he insisted on taking up the piano after hearing the sound he fell in love with drifting out of the practice studios. (It was a student playing a piece he had never heard before, Chopin's Waltz in C# minor). That was when he fell in love for the first time. That was the same year he decided that he would become a pianist by profession. When his family relocated to South Carolina a few years later, he continued his training without interruption, taking lessons at Furman University's Music Department's College Prep program.
Pandolfi made his orchestral debut at fourteen with a Mozart piano concerto with the Greenville Symphony Orchestra. During his senior year in high school, he was asked to perform Rhapsody in Blue with the same fine orchestra - but on a less-than-fine piano; and his most memorable moment came when … the pedals fell off the piano. He and the concertmaster (!!) took a few minutes to try to reattach them; when that didn't work, another piano was wheeled out, the orchestra began again, and all went on as rehearsed - take two! For Pandolfi, a loose screw was just something to laugh about. (And, yes, he has been accused of having a screw loose more than once).
But as it is for most high school musicians, classical performances were few and far between - so he was easily convinced to join some friends to play a dance gig. Luckily, Emile's home had been filled with his parent's musical preferences for the American Songbook and the big band standards of the 40s and 50's. To his surprise, he found the same enthusiastic audience response he had experienced with the symphony.
Emile continued his classical training, earning his graduate degree in piano performance. Upon finishing school he was true to his Italian heritage as regards long-term planning; it never occurred to him. So off he went to … St. Thomas, in the US Virgin Islands. Sounded like fun - and it was! And strangely enough, there began his club career.
After a few years on the island, his carefree, no-plan attitude took him to Sussex, England, Denver, and Los Angeles; at each destination a nightclub was his venue - either playing solo or with a band. Los Angeles presented additional opportunities for session work, touring with other artists, accompanying for ballet, vocal and acting classes, and one of his favorites, playing at the Comedy Store during the up-and-coming days for today's finest comics. Nightly, Emile played as Robin Williams, Jim Carey, Jay Leno, Jerry Seinfeld, Dice Clay, and many more took to the stage. He didn't know it at the time, but Emile was continuing his education in performance. At the Comedy Store he experienced firsthand the importance of t-t-t-timing in comedy; and additionally, he acquired a taste for sleight-ofhand magic, his second love affair.
Los Angeles also provided an opportunity that isn't generally available to pianists: of three hundred sixty auditioning, eighty-four pianists made the final cut to perform Rhapsody in Blue in the Opening Ceremonies of the 1984 Olympics. When the producers found there was no way to effectively project the sound live during the Opening Ceremonies, Pandolfi was one of four chosen to record the piano part which was broadcast throughout the stadium (and throughout the world) during the performance. The entire experience was a special moment in his life, and he even has a medal to prove it.
Until 1985 Emile continued living in LA, working as musical director for dinner theater and adding cruise ships to his entertainment venues. His young family wasn't thrilled with the time away from home, but that opened the door to leaving Los Angeles. Intending to move to New England, they first visited his parents in South Carolina…and ended up staying. With the mild seasons, beautiful mountains and gorgeous beaches within easy reach it seemed a perfect place to raise a family. It turned out to be a great decision and an unlikely launching pad for a recording and performing career - but then, it fit right in with the lack of long-term planning.
Emile recorded his first solo CD, By Request, in 1990 on his own MagicMusic record label. With national distribution a few months later, he quickly shot to the top of the alternative market and, 30 CDs later, continues to enjoy his reputation as one of the world's top popular pianists.
His arrangements of popular standards and Broadway hits are musical genius born of his classical roots, which run deep. He's also recorded Chopin and Gershwin to wide acclaim. When you hear him play, you'll never forget it - his signature is unique, lush and romantic. The songs are familiar; spanning from the '40's to the present. One of the things that makes him so unique is that he has taken his life long classical education and married it to nonclassical repertoire. But more significantly, he is able to express the song's soul and reach down into the listener's heart.
When you see him in live performance, he'll astound you with his technique (how many hands??) but he'll surprise you with his love of laughter. He is, after all, Italian. Decidedly "un-serious", Emile will romance you to your heart's content but then make you chuckle and laugh out-loud between the songs. Maybe that's why everyone feels so good about Emile!
Website
Social Media
Facebook
Twitter