Dante Lewis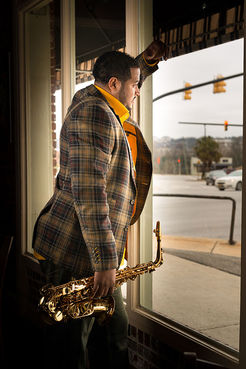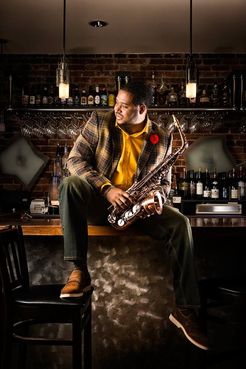 Upcoming Shows
Bio
Dante Lewis, a native of Columbia, South Carolina, is a powerful saxophonist and musician. Since the age of 12, Dante has wowed audiences throughout the Carolinas with his quality sound, his engaging personality, and his passion for music. Not only is Dante a passionate instrumentalist, but he is also a humble down to earth human being.
Dante graduated from Eau Claire High School, and he studied at USC Spartanburg. Although talented academically, Dante took time off from school to pursue his true calling as a musician.
In 2003, Dante started the band "Vision," a party and jazz group. The group performs at weddings, banquets, parties, and other major social events. Vision includes vocalist and keyboard player Bryon Counts, whom is also featured on and produced Dante's debut album, "Set the Mood."
Dante's "Set The Mood" was released in July of 2010, also his gospel jazz album "Songs of a Servant" was released August of 2011 and has since been featured on more than 300 internet radio sites and radio stations in the United States as well as internationally.
Not only has Dante's album gained notoriety, but he's also been featured in Lux Millionaire Magazine, Columbia Metropolitan Magazine, California's "Urban Scene Magazine" for "New Artist," and he's even performed at the Rowan Arts Festival.
Although Dante does a lot of solo work, he's performed on stage with other talented artists like Ashford and Simpson, Kenny "BabyFace Edmonds", Kirk Whalum, Norman Brown, Will Donato, Paul Jackson Jr, Pieces Of A Dream, Angela Winbush, Mighty Clouds of Joy, Lamar Cambell, Daniel D, Terence Young, and Sam Jenkins, Dante is endorsed by Forestone Reeds of Japan.
As a man of God, Dante is the former Minister of Music at St. Luke Baptist Church in Winnsboro, he's currently a musician at Bethlehem Baptist Church, and he performs for several charitable organizations and events.
Dante is the father of three, he loves to mentor and inspire, and he puts God first in all that he does.
Continuing to sell out shows everywhere he goes, Dante Lewis is truly geared for success and longevity.
To learn more this rising star or to book him for future events, visit his website at:http://www.dantelewismusic.com/
Website
Social Media
Facebook