Mike Jones and Groove Centric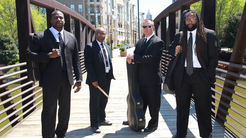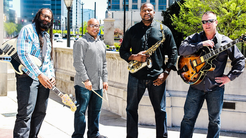 Show Info
Minimum Purchase Note
Please note, in addition to ticket purchases there is a $10.00 minimum purchase of food or drinks required per person. Ticket price does not include gratuity.
Date
Friday, April 6, 2018
2 Shows
8:00pm
10:15pm
Club Hours
6:00pm - 12:00am
kitchen open 6:00pm - 11:00pm
Location
Cover Charge
$10.00

Bio
Groove Centric started in 2008 in Atlanta, GA. They have since grown to a trendsetting band playing all around the city at venues such as The Velvet Note, St. James Jazz Restaurant, Churchill Grounds, the legendary Paschal's Restaurant, Sweet Georgia's Juke Joint, The Artmore Hotel, Jazz Café, Acoustix Jazz Restaurant, Ambiance Lounge, The Jazz Loft, Michon's Loft and many more. Groove Centric has expanded their musical reach by providing melodic entertainment for many corporate events. Collectively, they have played with artists such as Malcolm Jamal-Warner, Monica, Musiq Soulchild, Jimmy Heath, India Arie, Jeff Lorber, Oliver Lake, Mighty Blues Kings, Sonny Emory and Al Green to name a few. Their familiarity with a myriad of styles became recognizable by 2009, the band was invited to headline several jazz festivals in which they continue to participate in annually. Their evolution has given way to music that is now a complete embodiment of jazz, neo-soul, R&B, blues, pop, and funk.
As adept musicians, Groove Centric will take you on a ride beginning with a classic Miles Davis song, transition to the smooth sounds of Jill Scott and end by leaving you grooving to the head bopping funk of James Brown and Earth Wind and Fire. Groove Centric's mission is to captivate you with their eclectic blend of R&B, jazz and blues and leave you yearning for more. The band members are Mike Jones on sax, Keith Barnes on guitar, Joel Powell on bass and Brien Andrews on drums. Their debut album Crossing Bridges is now available for purchase on all digital outlets as well as physical copies at upcoming shows and by contacting them via their website at www.groovecentricmusic.com
View Full Groove Centric Bio >>

Website
Social Media
Facebook
Twitter