Map
Street Address
300 River St., Ste 203
Greenville, SC 29601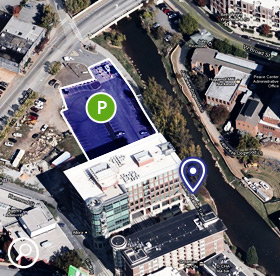 Parking
The Riverplace parking garage located at 300 River Street, Greenville, SC 29601 is located adjacent to Blues Boulevard at Riverplace. Visit the Riverplace Garage web page for current rates.
Hours
FIND US
We are below and to the left of the Hampton Inn in Downtown Greenville.

Take the stairs down to the Reedy River and turn left and we are on the left.
Wednesday, Thursday
5pm-11:30pm
kitchen open 6-10pm
Friday
5pm-until
kitchen open 6-11pm
Saturday
6pm-until
kitchen open 6-11pm
Sunday
10am-6pm
Brunch served 10am to 3pm
Monday, Tuesday, Wednesday
Available for Special Events
Please call 864-242-2583 for booking & catering information.
Blues Info
Phone
864-242-BLUE (2583)
Email Address
Social Media
Facebook
Twitter